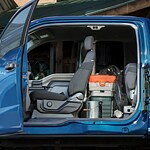 One popular pickup truck is the Ford F-150, which specialized in improved performance. This pickup truck is designed for performance with its top of the line transmission and different engine options.
Getting an effective transmission can enable your vehicle to take the driving performance to the next level. The Ford F-150 has a 10-speed transmission that delivers better performance than the traditional 6-speed transmission. There are also three overdrive gears for an improved design and an option to choose between selectable modes for your difference drive performance needs.
The engine of your pickup truck is one of the most critical components that affect drive performance. The F-150 has a great selection of engines including the power stroke diesel turbo diesel engine and the TI-ACT V8 engine. These engine options are designed with different cam timing features and fuel injection systems that directly improve the power and efficiency of your pickup truck. If you want to see how these performance features work in person, try taking a Ford F-150 for a test drive today.